Gedeptin - A Novel, Patented Immunotherapy for Solid Tumors
In late September 2021, GeoVax hosted a conference call to discuss the acquisition of Gedeptin from PNP Therapeutics. On the call, Dr. Eric Sorscher, MD, Professor at Emory University, School of Medicine and medical founder of PNP Therapeutics, outlined the key aspects of the product. Gedeptin is a gene-directed enzyme prodrug therapy (GEDPT) that results in the formation of the oncolytic agent within the tumor itself, resulting in tumor cell death while significantly limiting systemic exposure. Preclinical and early-stage human clinical data suggest the GEDPT approach can destroy otherwise refractory cancer cells in a safe and effective manner.
Gedeptin is based upon a replication-deficient adenoviral vector, a well-recognized vaccine platform used in existing vaccines. Examples include the Johnson & Johnson single-shot Covid-19 vaccine. However, instead of coding for the SARS-CoV-2 spike protein, Gedeptin codes for an enzyme derived from E. coli called purine nucleoside phosphorylase (PNP). Gedeptin is injected directly into the tumor mass three times over a period of two days.
The PNP enzyme, by itself, has no anti-cancer activity, and because it is derived from bacteria, the enzyme is unlikely to have significant metabolic activity in humans. However, the PNP enzyme can be used in combination with purine nucleoside prodrugs in order to generate active chemotherapeutic agents within the tumor cells (in situ).
The purine nucleoside drug, fludarabine phosphate (Fludara®) is approved for the treatment of certain hematological tumors but has shown minimal effectiveness against solid tumors. However, when fludarabine is taken up by cells previously treated with Gedeptin, the absorbed fludarabine is converted, in situ, to the potent cytotoxic agent, fluoroadenine. A cycle of Gedeptin therapy involves the intratumoral administration of three doses of Gedeptin over a two-day period. This is followed by the intravenous administration of fludarabine phosphate, once a day, for the next 3 days. The result, when the Gedeptin-treated cells absorb the fludarabine, is the targeted, site-specific activation of fludarabine to the active "cancer-killing" chemotherapy, fluoroadenine, within the cancer cells themselves.
Fluoroadenine works by blocking DNA synthesis and is particularly effective at killing the rapidly dividing refractory solid tumors dependent on DNA, RNA, and protein synthesis for growth.

Fluoroadenine is highly toxic systemically, but by Gedeptin targeting prodrug activation within the tumor itself, the in situ generation of the cytotoxic fluoroadenine targets the tumor cells with minimal systemic exposure.
Gedeptin was initially developed at the University of Alabama at Birmingham (UAB) and Southern Research Institute (SRI), with preclinical work supported by the NIH. Preclinical data published by Parker & Sorscher in 2017 demonstrated excellent in vitro and in vivo anti-tumor activity. The graph below shows the relative anti-tumor activity of increasing concentrations of intraperitoneal fludarabine phosphate in cells that express PNP.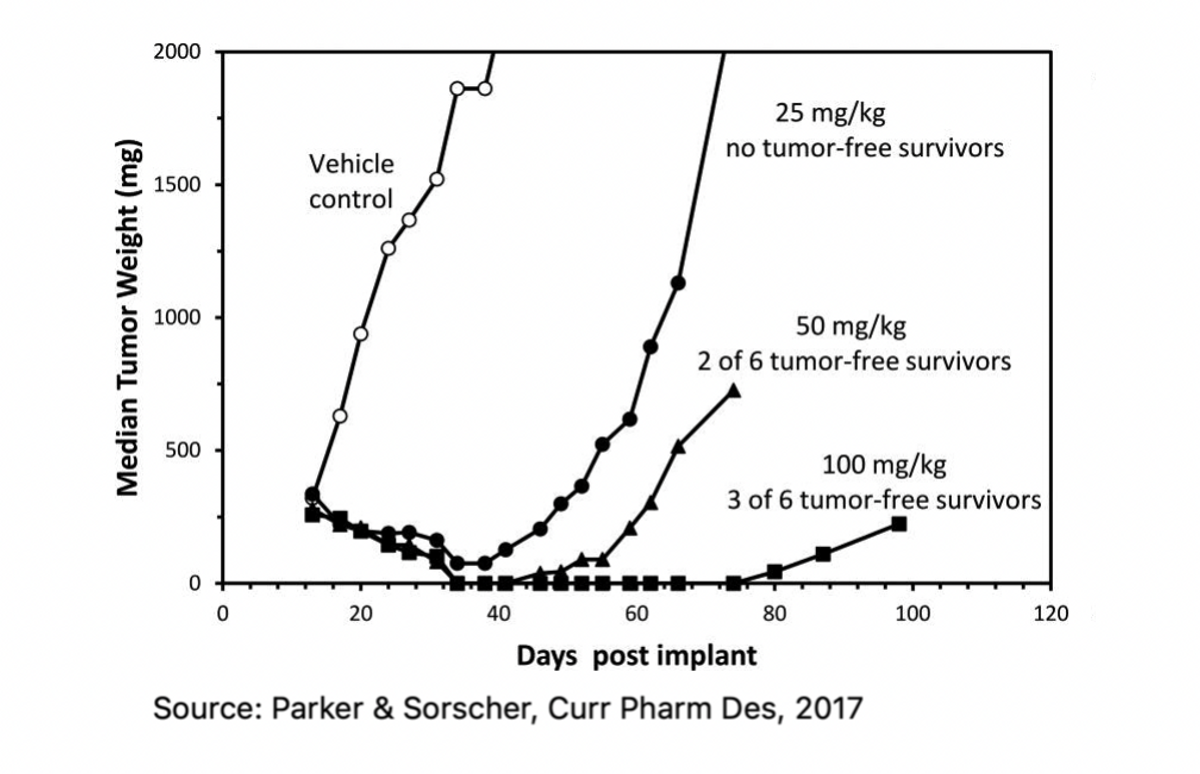 Impressive Initial Data
PNP Therapeutics conducted a first-in-human Phase 1 clinical study (NCT01310179) to evaluate Gedeptin for the treatment of refractory head and neck cancer. The study enrolled 12 subjects. Results published in the Annual of Oncology in 2015 (Rosenthal EL et al., 2015) show all 12 study subjects completed therapy without dose-limiting toxicity. Tumor size change from baseline to final measurement demonstrated a dose-dependent response, with 5 of 6 patients (83%) in the higher dose cohorts (cohorts-3 & -4) achieving significant tumor regression (see graphs below). One patient in cohort-4 (see image below) demonstrated noticeable improvement in tumor response after only one treatment cycle (14 days).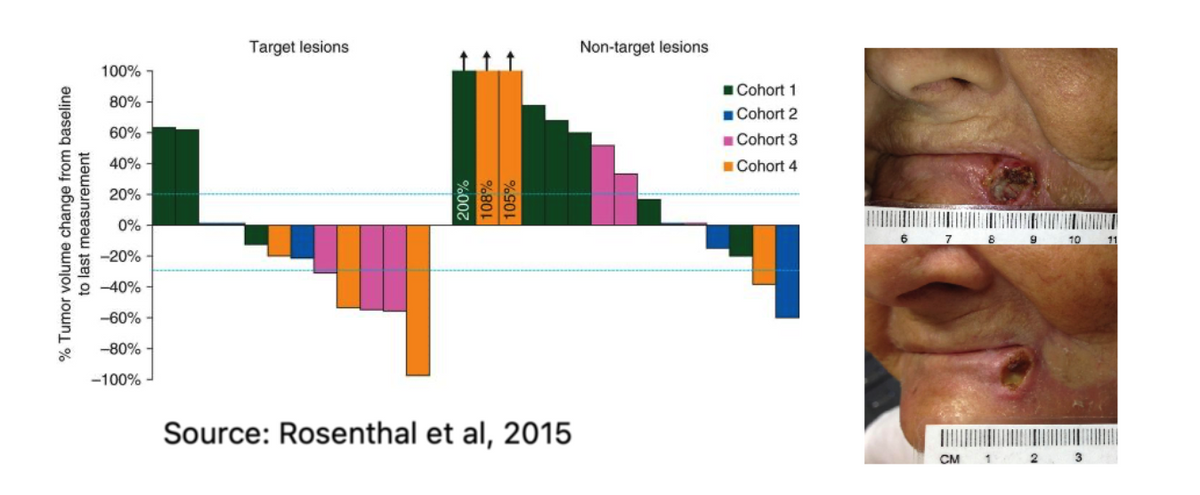 Notably, despite fludarabine's known systemic toxic effects, the overall adverse event rate was not dose-dependent, and the majority of events were deemed mild or moderate in nature. In addition, there were no treatment-related serious adverse events, and analysis of patient serum confirmed the lack of systemic exposure to fluoroadenine and the PNP enzyme.
Phase 1/2 Enrolling
Gedeptin is now being investigated in a Phase 1/2 clinical study (NCT03754933) looking to confirm the encouraging response rates demonstrated in the initial Phase 1 study noted above. Five patients have been enrolled so far at Stanford University, with GeoVax planning to expand enrollment to two additional sites in the near future. As noted above, initial funding for this study has been provided through the FDA's orphan products clinical trial grant program. Target total enrollment will be expanded to a total of 25-30 subjects with refractory, local head and neck cancer, including cancer of the mouth, lips, tongue, oral cavity, and salivary glands.
A Significant Market Opportunity
Worldwide, head and neck cancer account for approximately 900,000 cases and over 400,000 deaths annually. In the U.S., head and neck cancer accounts for 3% of malignancies, with about 66,000 patients developing head and neck cancer annually and 14,600 dying from the disease each year (source: UpToDate, 2021)
Initial treatment for locally advanced, non-resectable head and neck cancer is typically a combination of chemotherapy and radiation. Patients may receive platinum-chemotherapy along with fluorouracil, methotrexate, docetaxel, or the anti-EGFR monoclonal antibody, cetuximab (Erbitux®). Treatment options for patients with tumors that are resistant to these initial therapies are limited.
Recently, checkpoint inhibitors such as Merck's Keytruda® (pembrolizumab) and Bristol's Opdivo® (nivolumab) have gained approval in head and neck squamous cell carcinoma (HNSCC). Data from these checkpoint inhibitors can be used to benchmark the success of Gedeptin in the ongoing Phase 1/2 study.
In a Phase 1 monotherapy study,

KEYNOTE-012

, Merck's Keytruda (pembrolizumab) demonstrated an overall response rate of 18% (8 of 45 patients), with a slightly better response of 25% in patients who were HPV-positive vs. 14% for HPV-negative patients (

Seiwert T et al., 2016

).

In a more extensive Phase 3 study,

KEYNOTE-040

, Merck pitted Keytruda head-to-head vs. investigator's choice of cetuximab, methotrexate, and docetaxel. Results demonstrated a 15% response rate and 1.5 month improvement in median overall survival (8.4 months vs. 6.9 months; HR: 0.80, 0.65-0.98) (

Cohen E et al., 2019

).

In a Phase 3 study,

CheckMate-141

, Bristol's Opdivo (nivolumab) went head-to-head vs. the same investigator's choice as in the Merck study of cetuximab, methotrexate, and docetaxel. Data for Opdivo show a 13% response rate and 2.6 month improvement in median overall survival (7. 5 months vs. 5.1 months, HR: 0.70, 0.52-0.92) (

Ferris R et al., 2016

).
Potential Expedited Path To Approval?
Gedeptin, which demonstrated a 42% response rate in all patients and 83% in the two highest dose cohorts from the Phase 1 study, seems well-positioned if the ongoing Phase 1/2 study confirms these encouraging results. GeoVax is focused on completing clinical trial site expansion and enrollment during 2022, with the completion of the patient evaluation in 2023. If the results are supportive, the Company anticipates filing a BLA for FDA approval during 2024.
Gedeptin Expands GeoVax' I/O Focus
The acquisition of Gedeptin advances GeoVax's footprint in immuno-oncology into a clinical-stage program. Work continues with the company's use of its modified Vaccinia Ankara (MVA) virus delivery vector to introduce tumor-associated antigens (TAA) designed to provoke the immune system. TAA are proteins, glycoproteins, glycolipids, or carbohydrates expressed on the surface of tumor cells that may be used by the immune system to identify a malignant cell from a healthy, normal cell. It is well known that many cancers have ways to turn off or hide from the body's ability to find and identify important TAAs. Herein is the challenge that GeoVax is addressing to overcome.
GeoVax's initial focus to leverage its MVA platform is with Mucin 1 (MUC1). MUC1 is an oncogenic transmembrane glycoprotein in the mucin family found to be overexpressed in a wide variety of hematologic malignancies and solid tumors, including mesothelioma, breast, lung, gastric, pancreatic, colon, ovarian, and endometrial cancers. High expression correlates with aggressive, metastatic disease, and poor response to conventional therapy (Horm & Schroeder, 2013). The company's MVA-VLP-MUC1 candidate is designed to introduce the MUC1 antigen, which much like a vaccine, activates the immune system.
However, even if the immune system is activated, cancer cells can still find a way to hide by expressing "checkpoints" such as PD-1. Thus, GeoVax's primary strategy is to combine its MUC1 vaccine with checkpoint inhibitors, such as Keytruda or Opdivo, along with standard of care chemo- or radiation therapy. This triple-combination approach has the potential to unmask the MUC1 target and allow the body's own immune system to find and destroy cancerous cells with the help of broad-spectrum systemic care.
Initial results with MVA-VLP-MUC1 candidates have been encouraging. The company has recently presented results from two preclinical programs. In a therapeutic evaluation, MVA-VLP-MUC1 in combination with anti-PD-1 resulted in a 57% reduction in tumor growth compared to untreated controls. In a preventive ("tumor recurrence") model vaccination with MVA-VLP-MUC1 resulted in 100% prevention of tumor growth vs 100% tumor growth in the untreated cohort.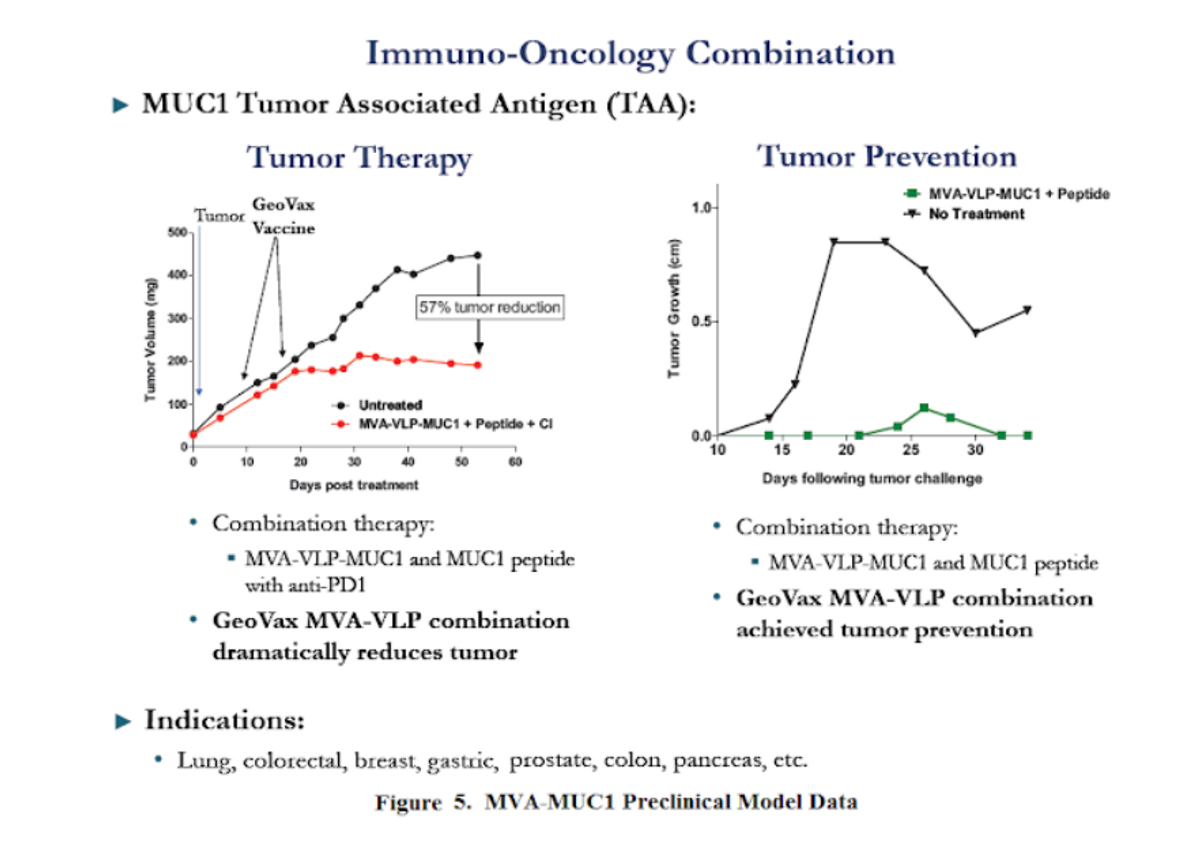 Gedeptin provides GeoVax with another pillar on which to build its immuno-oncology pipeline. Furthermore, the anticipated synergy between Gedeptin and MVA-VLP presents additional opportunities for novel cancer therapies. For example, the MVA-VLP platform can be used to awaken the immune system and Gedeptin can be used to achieve direct tumor cell oncolysis. Both agents can be combined with checkpoint inhibitors to reverse immune tolerance and drive long-lasting responses.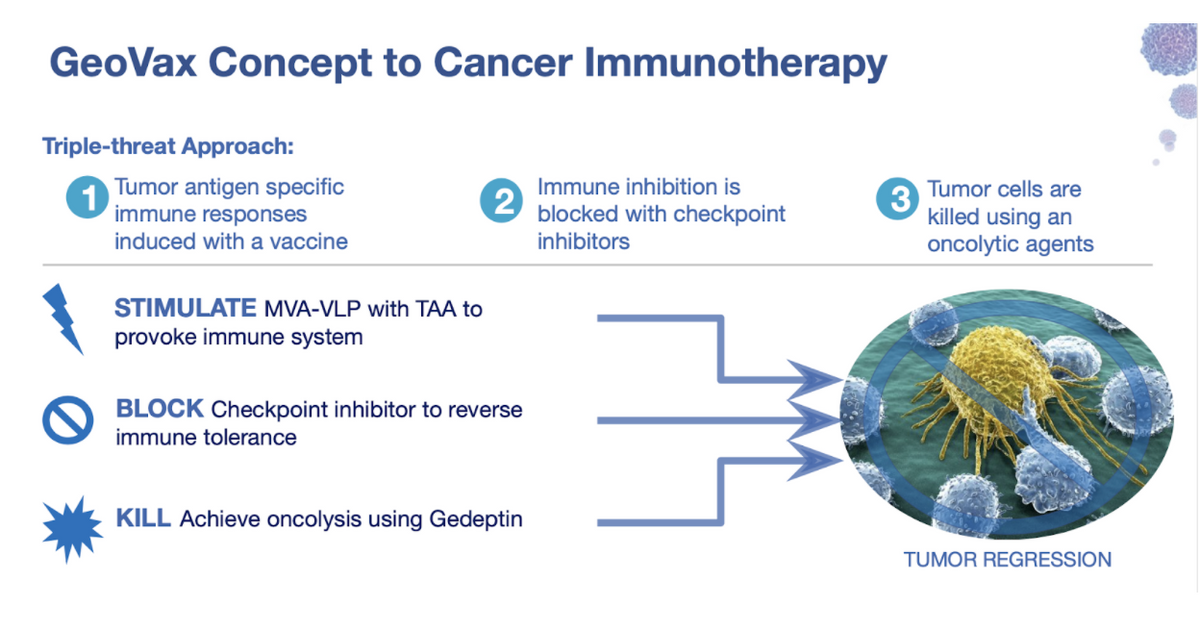 Universal COVID and Other Vaccine Efforts Remain On Track
Despite extensive efforts to vaccinate the U.S. population, COVID-19 infection rates and hospitalizations remain a high area of concern. In addition, breakthrough infections and the emergence of variant strains persist today. Organizations such as the NIH and the Coalition for Epidemic Preparedness Innovations (CEPI) are keenly aware of the threat that viral breakthroughs and variants present. Hence, efforts to develop a broad and durable universal COVID vaccine remain a high priority.
GeoVax's Chief Scientific Officer, Mark J. Newman, PhD., outlined the company's strategy and recent progress at the European Society of Medicine (ESMED) general assembly in August 2021. A replay of that presentation is archived on YouTube. Earlier this year, GeoVax announced the NIH had awarded them a grant to advance its research into preclinical animal testing.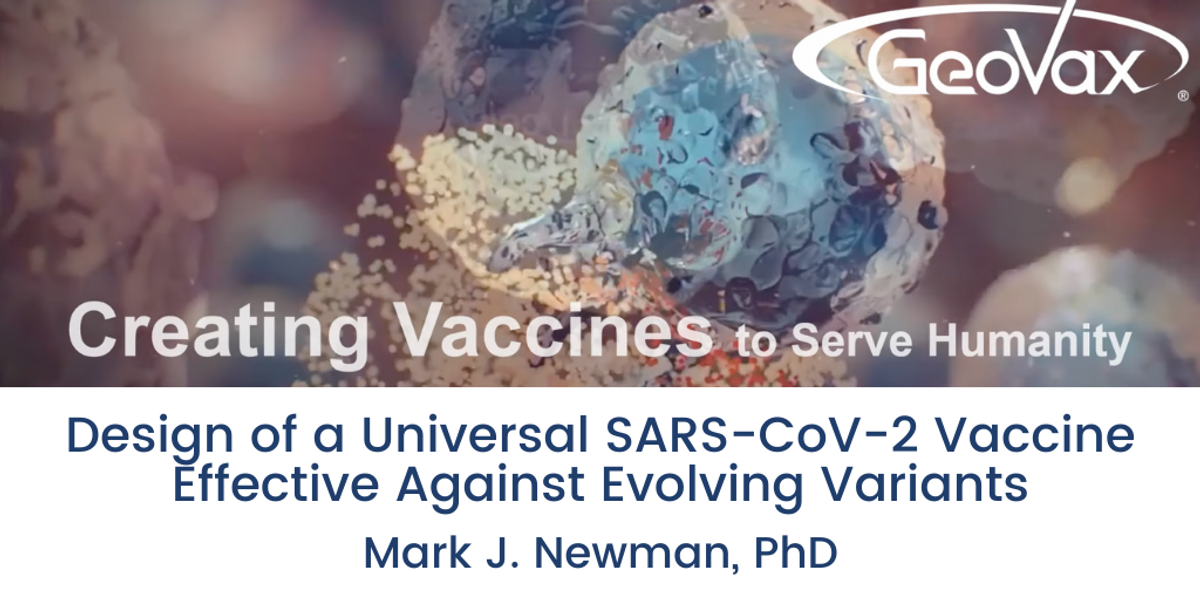 The GeoVax vaccine approach is based on the modified Vaccinia Ankara (MVA) virus as the vaccine delivery vector. MVA is a unique and versatile platform. It infects human cells but has been attenuated so that it will not replicate. The primary advantage of MVA is the genetic coding capacity, which allows for the incorporation of multiple virus proteins in a single vaccine. This is in contrast to other vaccine technologies such as mRNA and adenoviral vectors that only allow coding for one protein.
GeoVax uses MVA to encode multiple viral proteins that allow for the formation of virus-like particles (VLP) in a vaccinated person. VLPs accurately mimic the structure of the actual infectious viruses. In short, MVA-VLPs are authentic. They look and behave like an actual virus to the immune system. They induce both a humoral (antibodies) and cellular (T cells) immune response, generally from just a single dose.
GeoVax's pan-coronavirus vaccine candidate not only encodes for the S protein like the current vaccines but also includes coding for additional viral proteins (antigens), such as the Membrane ("M") and Envelop ("E") proteins. The E proteins provide the structural components required for the virus-like or VLP formation in the body. They also serve as additional targets for the cellular immune responses and are processed and presented by the immune system in the same way a live virus is processed and presented. And importantly, these structural proteins are conserved among coronavirus variants, which can allow for a universal vaccine candidate with a highly durable response.
GeoVax has been using the MVA-VLP platform to develop other products in its pipeline, such as its HIV, Ebola, Lassa, Zika, Marburg, and Malaria vaccines. The company provided an update on many of these programs in August 2021:
Progress continues using grant funding from the

U.S. Department of Defense

for the Lassa Fever (LASV) vaccine program. Non-human primate data are expected in late 2021 or early 2022.

In July 2021, GeoVax announced preclinical efficacy studies of its Sudan ebolavirus (SUDV) vaccine candidate demonstrated 100% protection after a single intramuscular dose, with improved neutralizing antibody response seen after a second immunization. In addition, the company expects to announce additional results before the end of the year from further work with the SUDV candidate and provide an update on collaborative work with the Marburg virus (MARV) vaccine candidates.

Exploratory studies in collaboration with the

Burnet Institute in Australia and Leidos, Inc.

have been encouraging with respect to the company's Malaria vaccine, and GeoVax is exploring the next steps for further testing or a partnership.

Finally, the company continues to seek collaborations around the HIV Vaccine program, which has completed multiple clinical trials funded by NIAID and anticipates additional clinical studies to be supported by the HIV Vaccine Trials Network (HVTN).
Conclusion
GeoVax is progressing on multiple fronts. The acquisition of Gedeptin significantly enhances the company's immuno-oncology status and pipeline. Data from the ongoing, expanded Phase 1/2 study is expected in 2023, which if positive and sufficient for proceeding, could lead to a BLA filing shortly thereafter. Additionally, management expects to provide an update on the VLP-MUC1 program before 2021 year-end, which is the second pillar in the company's I/O focus. And finally, efforts continue to develop a pan-coronavirus vaccine candidate, as recently outlined by the company at the European Society of Medicine (ESMED) general assembly in August 2021. All these efforts are being supported by a combination of grant funding and a strong cash balance of $19.5 million and the Company has no debt as of June 30, 2021.
---
About GeoVax

GeoVax Labs, Inc.
is a clinical-stage biotechnology company developing human vaccines against infectious diseases and cancer using novel patented platforms. GeoVax's Modified Vaccinia Ankara-Virus Like Particle (MVA-VLP) based vaccine platform utilizes MVA, a large virus capable of carrying several vaccine antigens, that expresses proteins that assemble into VLP immunogens in the person receiving the vaccine. The production of VLP in the person being vaccinated can mimic virus production in a natural infection, stimulating both the humoral and cellular arms of the immune system to recognize, prevent, and control the target infection. The MVA-VLP derived vaccines can elicit durable immune responses in the host similar to a live-attenuated virus, while providing the safety characteristics of a replication-defective vector.
GeoVax's
MVA-VLP development programs
are focused on preventive vaccines against COVID-19, HIV, Zika Virus, and hemorrhagic fever viruses (Ebola, Sudan, Marburg, and Lassa), as well as therapeutic vaccines against multiple cancers. The Company has designed a preventive HIV vaccine candidate to fight against the subtype of HIV prevalent in the commercial markets of the Americas, Western Europe, Japan, and Australia; human clinical trials for this program are managed by the HIV Vaccine Trials Network (HVTN) with the support of the National Institutes of Health (NIH). GeoVax's HIV vaccine is also part of a collaborative effort toward a functional cure for HIV.
In September 2021, GeoVax expanded its
immuno-oncology pipeline
and added a new technology platform through the
acquisition of exclusive rights to Gedeptin®,
a novel patented product for the treatment of solid tumors through a gene therapy strategy known as GDEPT (Gene-Directed Enzyme Prodrug Therapy). In GDEPT, a vector is used to selectively transduce tumor cells with a nonhuman gene, which expresses an enzyme that can convert a nontoxic prodrug into a very toxic antitumor compound. A Phase 1/2 trial is currently enrolling to evaluate the safety and efficacy of repeat cycles of Gedeptin therapy in patients with recurrent head and neck squamous cell carcinoma (HNSCC), with tumors accessible for injection and no curable treatment options. The initial stage of the study is being funded by the FDA pursuant to its Orphan Products Clinical Trials Grants Program. A cycle of Gedeptin therapy consists of three intra-tumoral injections over a two-day period followed by infusion of a prodrug, fludarabine phosphate, once a day for three days. The FDA has granted Gedeptin Orphan Drug status for the treatment HNSCC. GeoVax's license to Gedeptin include rights to expand its use to all human diseases and/or conditions including, but not limited to, other cancers.
Forward-Looking Statements

This release contains forward-looking statements regarding GeoVax's business plans. The words "believe," "look forward to," "may," "estimate," "continue," "anticipate," "intend," "should," "plan," "could," "target," "potential," "is likely," "will," "expect" and similar expressions, as they relate to us, are intended to identify forward-looking statements. We have based these forward-looking statements largely on our current expectations and projections about future events and financial trends that we believe may affect our financial condition, results of operations, business strategy and financial needs. Actual results may differ materially from those included in these statements due to a variety of factors, including whether: GeoVax's vaccines can provoke the desired immune responses, and those vaccines can be used effectively as a primary or booster to other vaccines, GeoVax's viral vector technology adequately amplifies immune responses to cancer antigens, GeoVax can develop and manufacture its products with the desired characteristics in a timely manner, GeoVax's products will be safe for human use, GeoVax's vaccines will effectively prevent targeted infections in humans, GeoVax's products will receive regulatory approvals necessary to be licensed and marketed, GeoVax raises required capital to complete product development, there is development of competitive products that may be more effective or easier to use than GeoVax's products, GeoVax will be able to enter into favorable manufacturing and distribution agreements, and other factors, over which GeoVax has no control.

Further information on our risk factors is contained in our registration statement on Form S-1 and the periodic reports on Form 10-Q and Form 10-K that we have filed and will file with the SEC. Any forward-looking statement made by us herein speaks only as of the date on which it is made. Factors or events that could cause our actual results to differ may emerge from time to time, and it is not possible for us to predict all of them. We undertake no obligation to publicly update any forward-looking statement, whether as a result of new information, future developments or otherwise, except as may be required by U.S. federal securities law.
For more information, please visit
www.geovax.com
or follow us on Twitter at
@Geovax_News
and
LinkedIn
.