Good afternoon everyone. Thank you for participating in the 2022 second quarter update call. The second quarter represented an exciting and critical period for GeoVax in that we advanced clinical-stage development status within the two priority areas of COVID-19 vaccine development and cancer therapies. In addition, we continued to advance our preclinical development stage programs. We also successfully strengthened our balance sheet during a very difficult investment environment, especially for the biotech sector.
Our mission is to improve lives, worldwide, preventing, or treating some of the world's most challenging infectious diseases and cancers. Our pursuit is to deliver safe, affordable products delivering increased value to shareholders and stakeholders while providing motivating career development opportunities to members of our team. The in-licensing of GEO-CM04S1 and Gedeptin® have provided potential, significant value expansion for the company.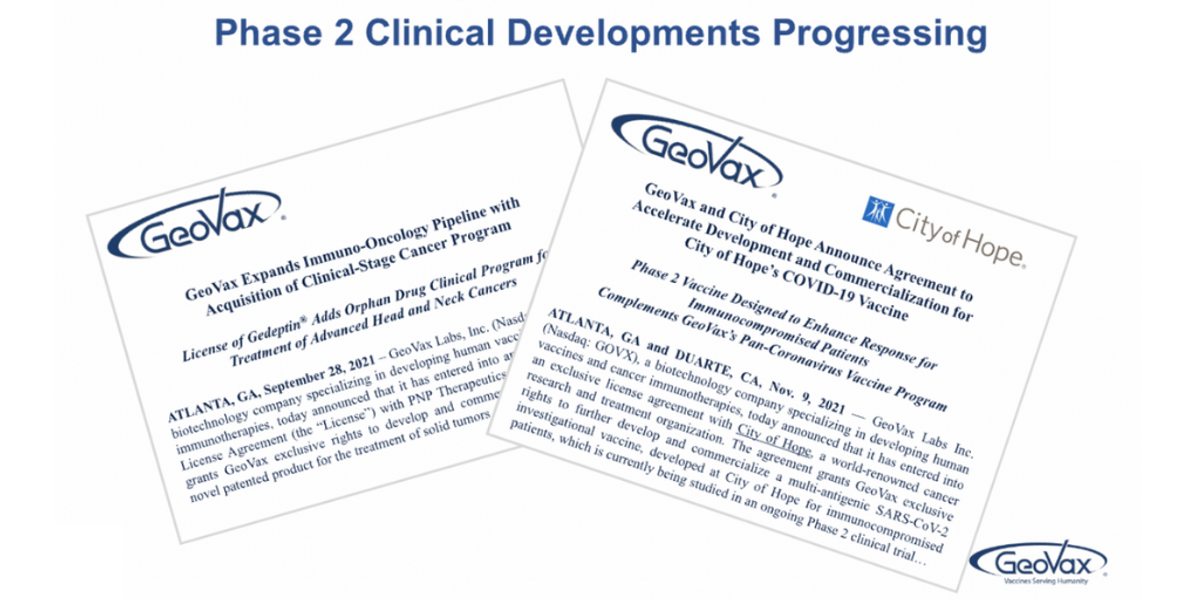 CM04S1 is leading, next-generation COVID-19 vaccine in phase-II clinical development, targeting both antibody and cellular immunity with the goal of providing more robust and durable protection than the current authorized vaccines. This vaccine holds promise from several critical areas of differentiation and value over the current authorized vaccines. Gedeptin is a cancer therapy currently in an expanding, multi-site evaluation among patients suffering from advanced head and neck cancers.
The product has received orphan drug designation from the FDA as well as the initial funding and support of the current clinical trial coming from the FDA orphan drugs clinical trials program. We believe that Gedeptin holds significant clinical promise, including a potential accelerated development pathway. Both CM04S1 and Gedeptin are now under the sponsorship of GeoVax and our focus is on accelerating the clinical development of each of these products, including the potential for expedited regulatory review.
At the same time, we continue to advance other internal development programs on the path to IND filing. Earlier this year, we issued a 2021 milestone report addressing the goals we established and communicated early last year. That report outlined our successful performance in executing upon our 2021 goals. In addition, we provided our goals for 2022. Our focus and activities remain on this year's goals, primarily reflecting and focusing on the acceleration of clinical development for Gedeptin and CM04S1 and the transition to a more-efficient, higher-yield MVA manufacturing process.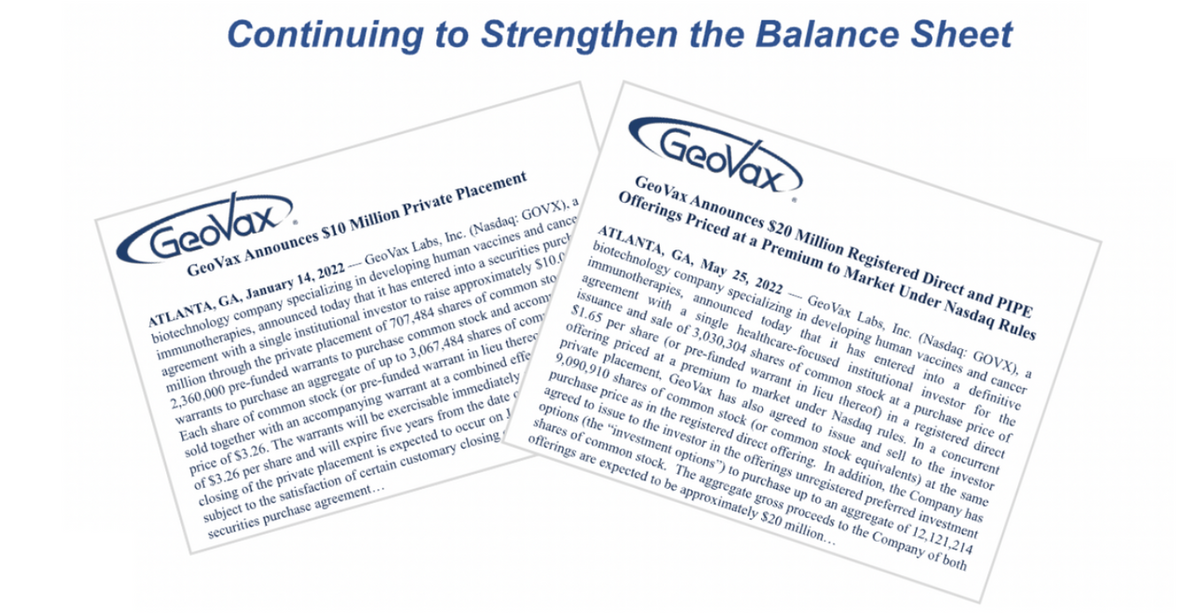 In January, we strengthened our balance sheet with a $10 million direct investment. In May, we closed a $20 million direct investment. In fact, just this week, an additional $5 million was added as a result of the exercise of warrants. We continue to receive strong interest related to investment capital, which we'll evaluate. But we're focused on execution towards our 2022 goals and building shareholder value. Mark Reynolds, GeoVax's CFO, will provide a more comprehensive overview of our financials.

Regarding Gedeptin, we previously confirmed two additional clinical sites in the assignment of Allucent as our CRO partner responsible for leading the expansion and acceleration of the Gedeptin clinical program. Our focus on accelerated and expanded patient enrollment is actively underway, with the goal to complete patient enrollment in early 2023, followed by completion of patient evaluations by the end of 2023 or 2024. Should the results be supportive, a BLA filing may follow shortly thereafter, but that will be determined based on further discussions with the FDA.
In parallel with the ongoing clinical program, we are also engaged with a CDMO to ensure sufficient product for the expanded clinical program as well as to prepare for commercial manufacture. We are confident that the Gedeptin phase II program will be successfully managed by Allucent and our clinical operations team, with possible expansion of further additional clinical sites. We are highly excited about the outlook and promise of Gedeptin within advanced head and neck cancer.
In addition, there are promising opportunities relative to the expanded use of Gedeptin in other indications, as well as the GDEPT technology in conjunction with other therapies and potential synergy with our MVA-VLP, tumor-associated antigen approach. We are looking forward to providing milestone updates throughout this year about the progress of our Gedeptin program.
We are highly focused on the clinical development of CM04S1 against COVID-19, including the continued emerging variance of concern. CM04S1 utilizes synthetic, Modified Vaccinia Ankra technology, similar to our other vaccine programs under development at GeoVax. CM04S1 induces immunity to SARS-CoV2 by stimulating the immune system to produce antibodies against SARS-CoV2 that can block the virus from entering healthy cells while the immune system can also grow new, disease-fighting T-cells that can recognize and destroy infected cells.
The vaccine includes both SARS-CoV2 spike and nucleocapsid proteins, differing from the current authorized vaccines, which only include spike protein. This is an important distinction. By inserting both of these proteins into our vaccine design, the MVA delivery vehicle is able to drive the expression of both proteins within the body of the vaccine recipient, inducing immune responses.
The role of the S-protein is to elicit a neutralizing antibody response against the initial infection, while the N-protein elicits a T-cell response to directly attack virus-infected cells, reduce viral replication, and reduce severity and provide viral clearance. Thus the vaccine is designed to induce both neutralizing antibodies and T-cell responses specific for the S-protein and the N-protein. The vaccine was implemented specifically to induce an expanded immune response to better combat and clear infections regardless of the circulating SARS-CoV2 variance.
This vaccine is the first step in the worldwide goal to provide a vaccine that gets ahead of the variance versus having to chase the variance. If successful, this vaccine will reduce reliance on the repeated administration of booster doses of existing vaccines. We believe that a multi-punch approach, such as this, has the potential for providing a more robust and durable immune responsive protection than the current, authorized vaccines. We also believe that various, high-risk populations, such as immune-compromised individuals, will benefit from such a multi-prong approach.
In fact, in July, analysis of data from the phase I study of CM04S1, published in the peer review journal, iScience, showed that CM04S1 demonstrated potent and equivalent T-cell cross-reactivity against delta and omicron variants. These findings suggest that T-cell immunity, stimulated by CM04S1 may constitute a critical, second line of defense to provide long-term protection against SARS-CoV2 variants.

And I will repeat, these were based upon the analysis of data from the human clinical trial, phase I study of CM04S1, which was, indeed published in iScience. CM04S1 is currently being evaluated in two, phase II clinical trials. One trial is a comparative study of CM04S1 as the primary vaccine versus the current, FDA-approved Pfizer vaccine in people that have received or are undergoing specific blood cancer therapies associated with transplantation or CAR T therapy that suppress or severely reduce pre-existing immunity to COVID-19 vaccines.
Multiple clinical evidence has demonstrated that such patients fail to respond optimally to the current generation vaccines and we believe that the CM04S1 will prove to be more potent because it is multi-antigenic, delivered using the MVA factor. We believe this will differentiate CM04S1 from the other vaccines by providing both a strong antibody response and a sustained, T-cell response in these patients who are still at high risk of severe COVID-19 due to their immune-compromised status.

The other phase II trial underway is evaluating CM04S1 as a booster for healthy patients who have previously received either the Pfizer or Moderna MRNA vaccine. We believe that providing a heterologous booster, rather than continued multiple shots of the same vaccine or similar vaccine, may provide more robust and durable immune responsive protection. Heterologous-prime boost immunizations are well studied in other fields, such as HIV, and are being evaluated in multiple countries using different COVID vaccines.
Finally, the ongoing GeoVax effort to develop an advanced, MVA manufacturing process, based on a continuously-growing antigen cell line to increase production consistency and capacity will mesh well with the clinical development activities in full development schedule associated with the CM04S1 and the CM02 vaccines. We are not alone in recognizing the limitations of the current authorized COVID-19 vaccines.
The continued need for more durable immunity, the waning of protective response, insufficient protection among various, high-risk, immune-compromised populations, and other evident issues are well documented and of increasing concern. We applaud the federal government for realizing that significant, incremental funding is needed in support of next-generation COVID vaccines, providing the promise, such as our CM04S1 and our CM02, as well as other vaccines, therapeutics, and technologies.
This is underscored by the actions of the Senate Appropriation Committee's recent FY'23 Health and Human Services Appropriations Bill, specifically targeting next-generation COVID-19 vaccine developments. We look forward to continued dialogue and discussions in support of CM04S1 and CM02 as we continue to advance the developments of these important COVID-19 or coronavirus vaccines.
Recently, the WHO declared monkeypox a public health emergency of international concern. Nations worldwide are enacting procedures and policies in support of minimizing the health risk from monkeypox to their populations. Currently, there are two vaccines authorized in the U.S. for prevention of monkeypox, the primary vaccine being Modified Vaccinia Ankra, or MVA, which is also the vaccine factor utilized in numerous GeoVax vaccines, including our CM04S1 and CM02, which target COVID-19.
In addition, MVA is the vaccine vector used in our hemorrhagic fever virus vaccines against Zaire Ebola virus, Sudan Ebola virus, and Marburg as well as our development-stage Zika virus vaccine and even our MUC1 cancer immunotherapy. In fact, previous, peer-reviewed publications address the successful prevention of monkeypox and non-human primate models, following the administration of GeoVax MVA-based HIV vaccines.
Recognizing the global public health need in attention of monkeypox, evaluation is underway related to CM04S1 and the prevention of monkeypox. It is anticipated that the results will demonstrate successful protection, validating that CM04S1 is protective against both COVID-19 and monkeypox. We also anticipate validating our hemorrhagic fever virus vaccines as protective against monkeypox, potentially providing unique vaccines preventing both hemorrhagic fever viruses and monkeypox in a single vaccine.
This would be very important in certain endemic areas of the world. We look forward to reporting more on this topic soon. Now, I'd like to turn the presentation over to Mark Reynolds, GeoVax's Chief Financial Officer, for a review of our recent results and financial status. Thank you. Mark?

Starting with our income statements, I'm going to go through some of this pretty quickly. But starting with the income statement, I'll focus on the comparative figures.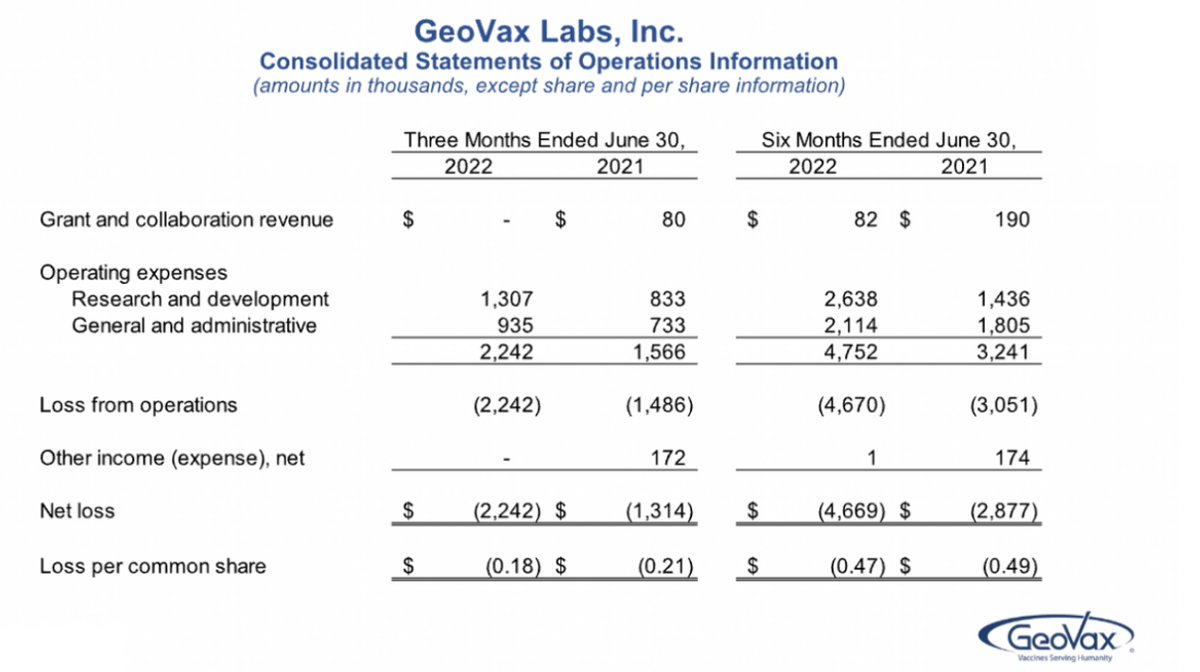 Grant revenues were $82,000 in a six-month period of 2022 versus $190,000 in '21. That's reflecting a wind-down of -- in both our grant from the NIH supporting the COVID-19 vaccine and the grant from the U.S. Army supporting our Lassa fever vaccine program. As of June 30, 2022, all the currently-available funds from these grants have been utilized. We do intend to seek additional, non-diluted funding for our development programs in the future, though.
Our R&D expenses were $2.6 million in 2022 versus $1.4 million in '21, with the increase, as expected, primarily associated with new clinical trial activity for COVID-19 and the cancer programs and that includes manufacturing costs for clinical trial materials. The increase is also reflective of higher personnel and consulting costs as we stacked up for an overall higher level of activity.
G&A expenses were $2.1 million in '22 versus $1.8 million in '21, with the increase also associated with higher personnel, consulting, and higher patent costs. So overall net loss for the first six months of '22 was $4.7 million, or $0.47 per share, versus $2.9 million in '21, or $0.49 per share. Again, with the increase primarily associated with ramp-up of organizational infrastructure and other costs associated with CM04S1 and Gedeptin clinical trials.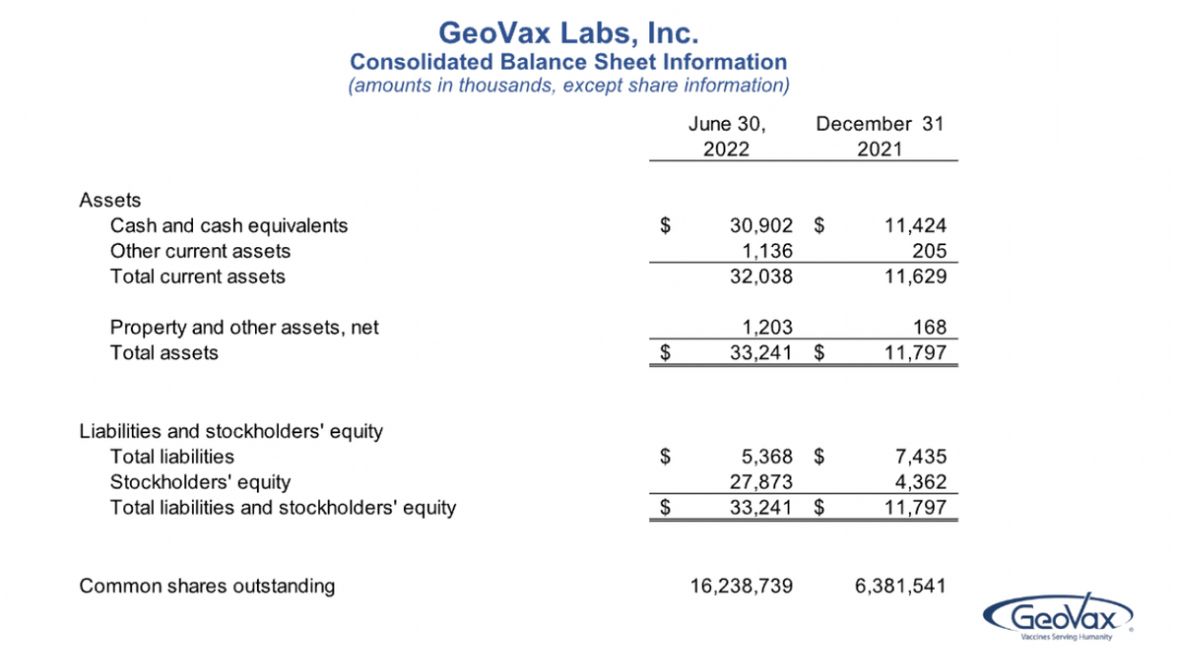 I'm going back to the balance sheet. Our cash balances as of June 30, were approximately $31 million, as compared to $11.4 million at the end of '21, and as David mentioned earlier, the change in the cash balances were reflective of $8.2 million used in operating activities, offset by proceeds from our stock offerings in January and May, with combined, net proceeds to us of nearly $28 million. And these numbers, I'll point out, also do not reflect the additional $5 million that came in just this week, from warrant exercises. So current cash stands at about $35 million.
Funding our three, ongoing, phase II clinical programs and preparing for the next stages of development are the most significant uses of our cash and are our top financial priorities. And as I noted, we just received $5 million through warrants and based on that, our outstanding shares now stand at $24.7 million. That's the current number. So, in summary, we are well positioned to accelerate and advance our clinical programs with a cash runway sufficient to fund our operations and priority programs for the end of next year.
---
GeoVax Labs, Inc. is a clinical-stage biotechnology company developing human vaccines and immunotherapies against infectious diseases and cancer using novel proprietary platforms. GeoVax's product pipeline includes two ongoing Phase 2 clinical trials of
GEO-CM04S1
for COVID-19 as a universal booster vaccine to mRNA vaccines authorized by the U.S. Food and Drug Administration (FDA) and as a primary vaccine for use in immunocompromised patients. In addition to GEO-CM04S1 for COVID-19, GeoVax is developing GEO-CM02 as a pan-coronavirus vaccine. The Company is also conducting a Phase 1/2 clinical trial of
Gedeptin®
for treatment of head and neck cancer. Gedeptin® has been granted orphan drug status by the FDA. Additional research and development programs include preventive vaccines against Zika Virus, hemorrhagic fever viruses (Ebola, Sudan, Marburg, and Lassa) and malaria, as well as immunotherapies for multiple solid tumors. The Company's portfolio of wholly owned, co-owned, and in-licensed intellectual property stands at over 70 granted or pending patent applications spread over 20 patent families.
For additional information about GeoVax, visit our website:
www.geovax.com
.
Forward-Looking Statements


This release contains forward-looking statements regarding GeoVax's business plans. The words "believe," "look forward to," "may," "estimate," "continue," "anticipate," "intend," "should," "plan," "could," "target," "potential," "is likely," "will," "expect" and similar expressions, as they relate to us, are intended to identify forward-looking statements. We have based these forward-looking statements largely on our current expectations and projections about future events and financial trends that we believe may affect our financial condition, results of operations, business strategy and financial needs. Actual results may differ materially from those included in these statements due to a variety of factors, including whether: GeoVax is able to obtain acceptable results from ongoing or future clinical trials of its investigational products, GeoVax's immuno-oncology products and preventative vaccines can provoke the desired responses, and those products or vaccines can be used effectively, GeoVax's viral vector technology adequately amplifies immune responses to cancer antigens, GeoVax can develop and manufacture its immuno-oncology products and preventative vaccines with the desired characteristics in a timely manner, GeoVax's immuno-oncology products and preventative vaccines will be safe for human use, GeoVax's vaccines will effectively prevent targeted infections in humans, GeoVax's immuno-oncology products and preventative vaccines will receive regulatory approvals necessary to be licensed and marketed, GeoVax raises required capital to complete development, there is development of competitive products that may be more effective or easier to use than GeoVax's products, GeoVax will be able to enter into favorable manufacturing and distribution agreements, and other factors, over which GeoVax has no control.


Further information on our risk factors is contained in our registration statement on Form S-1 and the periodic reports on Form 10-Q and Form 10-K that we have filed and will file with the SEC. Any forward-looking statement made by us herein speaks only as of the date on which it is made. Factors or events that could cause our actual results to differ may emerge from time to time, and it is not possible for us to predict all of them. We undertake no obligation to publicly update any forward-looking statement, whether as a result of new information, future developments or otherwise, except as may be required by law.