We have made tremendous progress over the past year to fundamentally improve the position of the company, including cleaning up our capital structure, securing long-term funding, signing critical licensing agreements, accelerating our preclinical development programs towards clinical development, and achieving NASDAQ listing. We are excited about the numerous upcoming milestones with our developments, which should see several data read-outs over the next six-to-twelve months.
Our COVID-19 animal testing results, guiding our path to clinical development, will become available during H1 2021.

Preparations and plans for proceeding to clinical development with our immuno-oncology program are underway with a focus on initiating clinical evaluation in 2021.

The Lassa vaccine is now in animal testing through non-human primates, with results expected later this year or early next year. This program is being supported by the U.S. Army and will also fund the preparation of cGMP material for clinical development.

Both the Marburg and Sudan vaccines, having previously demonstrated 100% protection in rodent models, are being tested via the NIH preclinical services program through non-human primates at no cost to GeoVax. We expect results of the animal testing beginning the first quarter of 2021.

Our malaria vaccine candidates have recently entered animal testing with the results expected later this year.

Our Zika virus vaccine is ready to proceed into clinical development, having demonstrated excellent preclinical results, including avoiding the risk of antibody-dependent enhancement of infection against Dengue or other flaviviruses.

Similarly, our Ebola virus vaccine is ready to proceed into clinical development, and has demonstrated 100% protection from a single-dose without any adjuvants necessary.
The commercial opportunity for all the above vaccines.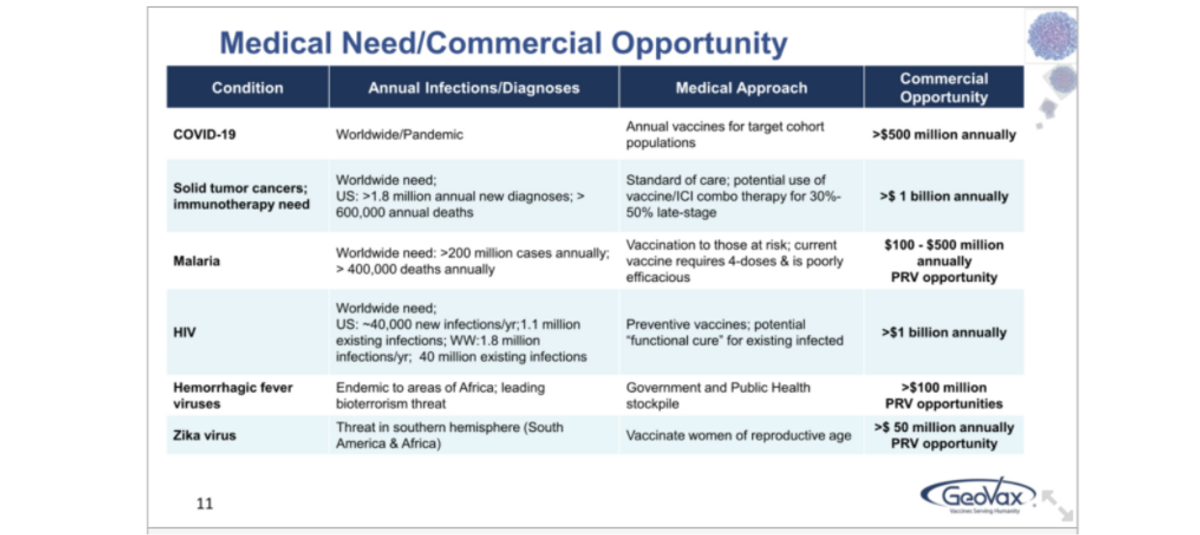 We are particularly excited about the recent signing of two license agreements with the National Institutes of Health (NIH). The initial agreement allows GeoVax to use the patent rights and licensed materials in combination with the Company's proprietary technology for the development, manufacturing, and commercialization of a preventive vaccine against COVID-19. The second license supports the ongoing research and development of our other infectious disease vaccine and cancer immunotherapy programs, leading to the critical decisions related to clinical development. Together, these two licenses support our ongoing developments and progress of our product portfolio.
And finally, we continue to make progress with our efforts in cancer immunotherapy. We are working to advance our lead MUC1 candidate into the clinic in 2021 and are advancing plans to that end. As a reminder, we are applying the same approach that we use in constructing our infectious disease vaccines to cancer. Our cancer immunotherapy concept is to combine a tumor-associated antigen vaccine with potent anti-tumor agents such as immune checkpoint inhibitors (ICI). Mucin-1 TAA or MUC1 is highly expressed in many different solid tumors and, in a humanized mouse model study, our MVA-VLP, MUC1 TAA vaccine construct combined with a checkpoint inhibitor resulted in a 57% difference in tumor growth between the cohort receiving our vaccine/ICI combination compared to a cohort that didn't receive our combination treatment. In a preventive humanized mouse model, our MVA-VLP MUC1 vaccine plus a MUC1 peptide provided 100% prevention of tumor development versus 100% development of the tumor in the cohort that didn't receive the GeoVax vaccine peptide combination. These highly promising results have encouraged our focus on advancing our cancer immunotherapy program into clinical development as soon as possible.
In summary, GeoVax is in a stronger position today towards advancing to major value milestones than ever before. We look forward to providing updates on all our programs in the coming months.
---
About GeoVax

GeoVax Labs, Inc.
is a clinical-stage biotechnology company developing human vaccines against infectious diseases and cancer using novel patented platforms. GeoVax's Modified Vaccinia Ankara-Virus Like Particle (MVA-VLP) based vaccine platform utilizes MVA, a large virus capable of carrying several vaccine antigens, that expresses proteins that assemble into VLP immunogens in the person receiving the vaccine. The production of VLP in the person being vaccinated can mimic virus production in a natural infection, stimulating both the humoral and cellular arms of the immune system to recognize, prevent, and control the target infection. The MVA-VLP derived vaccines can elicit durable immune responses in the host similar to a live-attenuated virus, while providing the safety characteristics of a replication-defective vector.
GeoVax's
MVA-VLP development programs
are focused on preventive vaccines against COVID-19, HIV, Zika Virus, and hemorrhagic fever viruses (Ebola, Sudan, Marburg, and Lassa), as well as therapeutic vaccines against multiple cancers. The Company has designed a preventive HIV vaccine candidate to fight against the subtype of HIV prevalent in the commercial markets of the Americas, Western Europe, Japan, and Australia; human clinical trials for this program are managed by the HIV Vaccine Trials Network (HVTN) with the support of the National Institutes of Health (NIH). GeoVax's HIV vaccine is also part of a collaborative effort toward a functional cure for HIV.
Forward-Looking Statements
This release and the related conference call contain forward-looking statements regarding GeoVax's business plans and financial results. The words "believe," "may," "estimate," "continue," "anticipate," "intend," "should," "plan," "could," "target," "potential," "is likely," "will," "expect" and similar expressions, as they relate to us, are intended to identify forward-looking statements. We have based these forward-looking statements largely on our current expectations and projections about future events and financial trends that we believe may affect our financial condition, results of operations, business strategy and financial needs. Actual results may differ materially from those included in these statements due to a variety of factors, including whether: GeoVax and its collaborators are able to complete their work within the expected timeframes, GeoVax is able to obtain the patent protection sought, GeoVax's COVID-19 vaccines can provoke responses to multiple COVID-19 antigens, and those vaccines can be used effectively as a primary or booster to other COVID-19 vaccines, GeoVax's viral vector technology adequately amplifies immune responses to cancer antigens, GeoVax can develop and manufacture its vaccines with the desired characteristics in a timely manner, GeoVax's vaccines will be safe for human use, GeoVax's vaccines will effectively prevent targeted infections in humans, GeoVax's vaccines will receive regulatory approvals necessary to be licensed and marketed, GeoVax raises required capital to complete vaccine development, there is development of competitive products that may be more effective or easier to use than GeoVax's products, GeoVax will be able to enter into favorable manufacturing and distribution agreements, the impact of the COVID-19 pandemic continues, and other factors, over which GeoVax has no control. Further information on our risk factors is contained in our registration statement on Form S-3 and the periodic reports on Form 10-Q and Form 10-K that we have filed and will file with the SEC. Any forward-looking statement made by us herein speaks only as of the date on which it is made. Factors or events that could cause our actual results to differ may emerge from time to time, and it is not possible for us to predict all of them. We undertake no obligation to publicly update any forward-looking statement, whether as a result of new information, future developments or otherwise, except as may be required by law. Contact: GeoVax Labs, Inc. investor@geovax.com 678-384-7220
For more information, please visit
www.geovax.com
or follow us on Twitter at
@Geovax_News
and
LinkedIn
.