The execution of the Patent and Biological Materials License Agreement with the NIH illustrates our confidence in the MVA-VLP platform. This viral vector provides a level of flexibility to our research efforts that will allow for the design of vaccines that are unique to the marketplace and which can address multiple unmet medical needs. I want to highlight specifically what GeoVax is doing with respect to COVID-19. Our response to this pandemic has resulted in the design of several experimental vaccine candidates that will induce both antibody and cellular immune responses following a single dose. These are being tested in animal models with the plan of selecting the lead candidate early in 2021 for human clinical testing.
The GeoVax approach enables the design of MVA-vectored vaccines encoding multiple COVID-19 proteins to support the formation of virus-like particles, termed VLP, within the cells of the vaccinated individual. These VLP accurately mimic the virus in structure and as such, will induce optimal immune responses but they are not infectious nor can they cause disease. As a result, we anticipate stronger and broader immune responses will be induced, ideally with a single vaccine dose. In addition to vaccine potency, the induction of a broader immune response involving both antibody and cellular mechanisms should provide an added level of protection against variants of COVID-19 that may arise as the virus continues to circulate globally.
MVA has a very well documented safety record and its use is approved in multiple countries as a smallpox vaccine in individuals with medical conditions requiring additional safety considerations, such as comprised immune systems associated with cancer treatment, transplantation and even advanced age. Use of MVA as a vaccine vector provides opportunities to tailor vaccines for different markets and address specific niches that otherwise are underserved.
Info-graphic highlighting the MVA-VLP platform...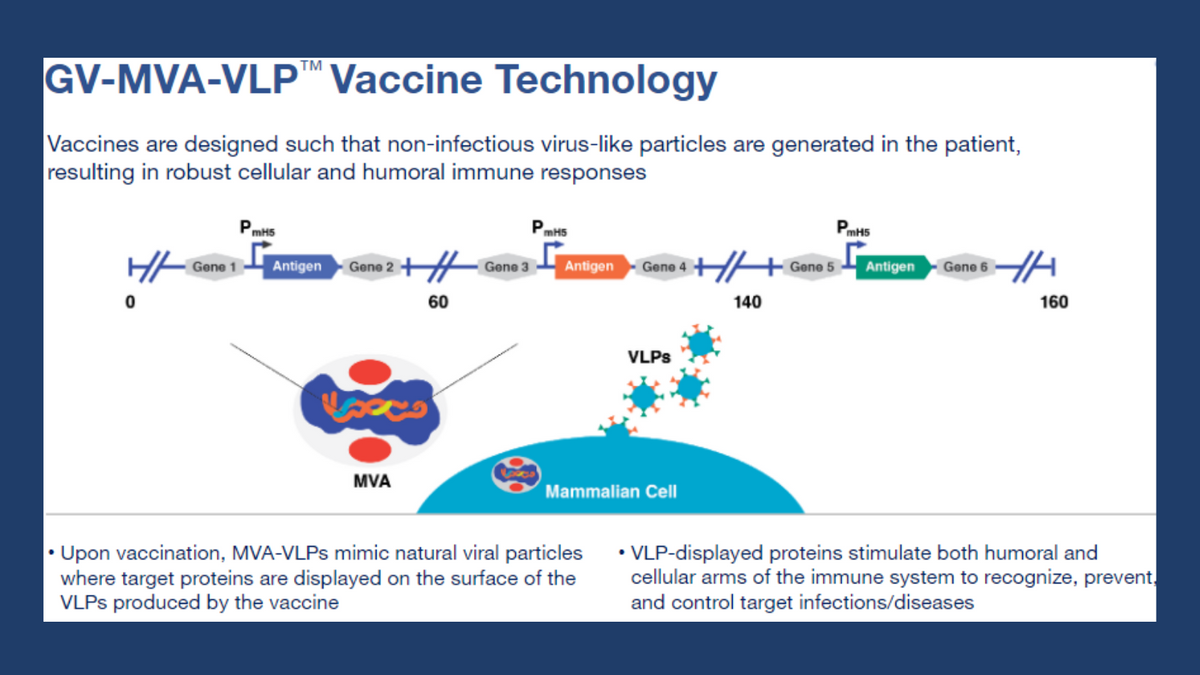 ---
About GeoVax

GeoVax Labs, Inc.
is a clinical-stage biotechnology company developing human vaccines against infectious diseases and cancer using novel patented platforms. GeoVax's Modified Vaccinia Ankara-Virus Like Particle (MVA-VLP) based vaccine platform utilizes MVA, a large virus capable of carrying several vaccine antigens, that expresses proteins that assemble into VLP immunogens in the person receiving the vaccine. The production of VLP in the person being vaccinated can mimic virus production in a natural infection, stimulating both the humoral and cellular arms of the immune system to recognize, prevent, and control the target infection. The MVA-VLP derived vaccines can elicit durable immune responses in the host similar to a live-attenuated virus, while providing the safety characteristics of a replication-defective vector.
GeoVax's
MVA-VLP development programs
are focused on preventive vaccines against COVID-19, HIV, Zika Virus, and hemorrhagic fever viruses (Ebola, Sudan, Marburg, and Lassa), as well as therapeutic vaccines against multiple cancers. The Company has designed a preventive HIV vaccine candidate to fight against the subtype of HIV prevalent in the commercial markets of the Americas, Western Europe, Japan, and Australia; human clinical trials for this program are managed by the HIV Vaccine Trials Network (HVTN) with the support of the National Institutes of Health (NIH). GeoVax's HIV vaccine is also part of a collaborative effort toward a functional cure for HIV.
Forward-Looking Statements
This release and the related conference call contain forward-looking statements regarding GeoVax's business plans and financial results. The words "believe," "may," "estimate," "continue," "anticipate," "intend," "should," "plan," "could," "target," "potential," "is likely," "will," "expect" and similar expressions, as they relate to us, are intended to identify forward-looking statements. We have based these forward-looking statements largely on our current expectations and projections about future events and financial trends that we believe may affect our financial condition, results of operations, business strategy and financial needs. Actual results may differ materially from those included in these statements due to a variety of factors, including whether: GeoVax and its collaborators are able to complete their work within the expected timeframes, GeoVax is able to obtain the patent protection sought, GeoVax's COVID-19 vaccines can provoke responses to multiple COVID-19 antigens, and those vaccines can be used effectively as a primary or booster to other COVID-19 vaccines, GeoVax's viral vector technology adequately amplifies immune responses to cancer antigens, GeoVax can develop and manufacture its vaccines with the desired characteristics in a timely manner, GeoVax's vaccines will be safe for human use, GeoVax's vaccines will effectively prevent targeted infections in humans, GeoVax's vaccines will receive regulatory approvals necessary to be licensed and marketed, GeoVax raises required capital to complete vaccine development, there is development of competitive products that may be more effective or easier to use than GeoVax's products, GeoVax will be able to enter into favorable manufacturing and distribution agreements, the impact of the COVID-19 pandemic continues, and other factors, over which GeoVax has no control. Further information on our risk factors is contained in our registration statement on Form S-3 and the periodic reports on Form 10-Q and Form 10-K that we have filed and will file with the SEC. Any forward-looking statement made by us herein speaks only as of the date on which it is made. Factors or events that could cause our actual results to differ may emerge from time to time, and it is not possible for us to predict all of them. We undertake no obligation to publicly update any forward-looking statement, whether as a result of new information, future developments or otherwise, except as may be required by law. Contact: GeoVax Labs, Inc. investor@geovax.com 678-384-7220
For more information, please visit
www.geovax.com
or follow us on Twitter at
@Geovax_News
and
LinkedIn
.