GeoVax (NASDAQ: GOVX) made significant progress with its pipeline in 2022; however, perhaps the most important milestone came in May 2022, when the company strengthened its balance sheet by raising $20 million via a registered direct and PIPE offering. Most notable from this transaction was that the PIPE (private investment in public equity) took place with a single healthcare-focused institutional investor, suggesting deep due diligence on that investor's part and confidence in the long-term prospects for GeoVax. Read more about CEO David Dodd's plans.
The financing in May 2022 was incredibly important because it allows GeoVax to accelerate patient enrollment for its Phase 2 clinical programs in support of GEO-CM04S1 (Covid-19 vaccine) and Gedeptin® (gene-therapy against Advanced Head & Neck cancers). As of September 30, 2022, cash was $34.7 million, providing enough runway to report updates on these studies throughout 2023.
GeoVax's core vaccine technology is built on the proven Modified Vaccinia Ankara (MVA) platform. MVA is an attenuated (highly weakened) poxvirus vector used to develop vaccines for infectious diseases. The company uses the MVA vector to carry recombinant DNA or recombinant viruses that produce Virus-Like Particles (VLPs) in the vaccinated person. VLPs mimic the structure of viruses (without containing infectious material) and train the immune system to recognize the authentic virus, eliciting both strong and durable humoral and cellular immune response. This interview with Dr. Mark Newman, CSO, provides an overview of how GeoVax is differentiated.
Recombivax® (Merck) and Engerix® (Glaxo) for HBV and Gardasil® (Merck) and Cervarix® (Glaxo) for HPV are successful commercial examples of VLP vaccines. And to date, GeoVax has presented a wealth of preclinical and early-stage clinical data, most notably with the company's HIV vaccines, that confirm the safety and durable immune response using the MVA-VLP platform.
GeoVax is leveraging its expertise with MVA-VLP to advance several vaccine candidates for infectious diseases, including Covid-19, Ebola Zaire, Ebola Sudan, Marburg, Zika, and Malaria. In July 2022, the company published data from the animal efficacy study in Nature Partners Journals (NPJ) Vaccines demonstrating 100% protection from a lethal dose of GEO-SM01 for Ebola Sudan. What's most interesting is that many of these programs qualify for a Priority Review Voucher (PRV) under the U.S. FDA's PRV program for rare tropical diseases. The most recent PRV has been sold for over $100 million.

GeoVax is leveraging its expertise in developing vaccines utilizing the MVA platform to advance GEO-CM04S1, the phase 2 vaccine against SARS-Cov-2, based upon a synthetic MVA (sMVA) platform. What makes MVA technology so beneficial for COVID-19 is that MVA is capable of carrying quite large transgenes, as well as more than one payload. For example, GEO-CM04S1 is a multi-genic vaccine that uses an sMVA vector that expresses both the spike protein ("S") and nucleocapsid protein ("N") - with each component playing a key role in the immune response.
The GEO-CM04S1 S-antigen induces the antibody responses, similar to the mRNA vaccines, but the N-antigen drives T-cell response, including T-cell memory. Targeting the N protein is particularly important because it is the most abundant protein in coronaviruses; it is highly immunogenic, and its amino acid sequence is largely conserved, which should protect against mutations in the S protein and provide a more durable response (i.e., less opportunity for viral escape). Combined, this makes the GEO-CM04S1 vaccine ideal for immunocompromised patients and as a potential booster to approved mRNA vaccines. For the latter, mRNA vaccines are being proposed for fourth and fifth doses due to a combination of lack of long-term immunity, viral escape variants, and other factors. From a public health perspective, assuming large populations will get vaccinated 3-5+ times a year is just not practical.
GeoVax has been focused on advancing GEO-CM04S1 in a Phase 2 study, investigating GEO-CM04S1 as a primary vaccine for immunocompromised cancer patients. This study pits GEO-CM04S1 head-to-head versus Pfizer's mRNA vaccine (Comirnaty®), with the primary goal of showing increased immune response and subsequent protection from COVID-19 in patients with blood cancer who have received stem cell transplant or cellular therapy. If successful, GeoVax could be in a position to seek Emergency Use Authorization for GEO-CM04S1 in this population. We remind investors that GeoVax's MVA platform was originally developed as a smallpox vaccine specifically for use in patients with some level of a compromised immune system.
GeoVax is also investigating GEO-CM04S1 in an additional Phase 2 as a booster for healthy patients who have previously received either the Pfizer or Moderna vaccine as their initial inoculation. Similar to the study above, the goal here is to show a superior immune response and subsequent protection. Earlier in 2022, Phase 1 data was published in The Lancet Microbe, demonstrating that GEO-CM04S1 produced robust neutralizing antibodies and T cells against SARS-CoV-2 with no significant side effects. The takeaway here is that GeoVax's vaccine offers a dual mechanism of action that should provide better protection against spike antigen mutations and variants of concern where we have seen inconsistent protection from existing FDA-approved vaccines. In fact, additional analysis from the Phase 1 study published in iScience showed potent and equivalent T-cell cross-reactivity against Delta and Omicron variants.
GeoVax is also developing a second COVID-19 vaccine, GEO-CM02, in preclinical development designed to function as a universal Coronavirus vaccine, eliciting protection not only against the SARS-CoV-2 strain that created the COVID-19 pandemic but also against future pandemics that could arise from Coronaviruses. Unfortunately, the next global pandemic is likely on the horizon, and organizations like the U.S. FDA, CDC, and WHO need to be prepared now. GeoVax will seek non-dilutive funding to advance its universal Coronavirus vaccine once it is ready for initial human clinical trials.
Beyond Coronavirus, the capability and versatility of MVA make the platform particularly interesting for developing vaccines against other global pandemics. For example, MVA is the Bavarian Nordic vaccine JYNEEOS currently stockpiled for smallpox/monkeypox. Bavarian Nordic has contracts to deliver 5.5 million doses of the vaccine to the U.S. government as part of the U.S. strategic national stockpile (SNS), as well as another 1.5 million doses to Europe.
Recently, GeoVax secured rights to the NIH-MVA for further development and commercial use against MPOX and Smallpox viruses, which provides a compelling opportunity to leverage GeoVax's expertise to help expand the global public health supply options available for these worldwide public health threats, while also providing GeoVax the opportunity to be the first U.S.-based supplier of MVA as a vaccine against MPOX and Smallpox.

GeoVax took a transformational step forward with its oncology pipeline in late 2021, in-licensing Gedeptin from PNP Therapeutics and thereby acquiring an additional ongoing clinical program. Gedeptin® is a gene-directed enzyme prodrug therapy (GDEPT®) that forms the oncolytic agent within the tumor itself, resulting in tumor cell death while significantly limiting systemic exposure. Preclinical and early-stage human clinical data suggest that the GDEPT approach can safely and effectively destroy otherwise refractory cancer cells.
Gedeptin is based upon a replication-deficient adenoviral vector, a well-recognized vaccine platform used in existing vaccines. Johnson & Johnson used this platform to develop its single-shot Covid-19 vaccine in 2020. However, instead of coding for the SARS-CoV-2 spike protein, Gedeptin codes for an enzyme derived from E. coli called purine nucleoside phosphorylase (PNP). The PNP enzyme, by itself, has no anti-cancer activity. Because it is derived from bacteria, the enzyme is unlikely to have significant metabolic activity (i.e., off-target effects) in humans. However, the PNP enzyme can be combined with purine nucleoside prodrugs to generate active chemotherapeutic agents within the tumor cells (in situ).
The purine nucleoside drug, fludarabine phosphate (Fludara®), is approved for the treatment of certain hematological tumors but has shown minimal effectiveness against solid tumors. However, when fludarabine is taken up by cells previously treated with Gedeptin, the absorbed fludarabine is converted, in situ, to the potent cytotoxic agent, fluoroadenine. A cycle of Gedeptin therapy involves the intratumoral administration of three doses of Gedeptin over a two-day period. This is followed by the intravenous administration of fludarabine phosphate. The result, when the Gedeptin-treated cells absorb the fludarabine, is the targeted, site-specific activation of fludarabine to the active "cancer-killing" chemotherapy, fluoroadenine, within the cancer cells themselves.
Phase 1 data by PNP Therapeutics was previously published in the Annual of Oncology. The data show reductions in target tumor lesions for eight out of 12 subjects, with all six subjects on the two highest doses showing target lesion reductions.
In the month of December 2022, there were two positive updates from other companies that provided the mechanistic rationale for the intratumoral-injection concept of GDEPT. Early in the month, Replimune provided an update on its Phase 1 IGNYTE program that showed intratumoral injections of the oncolytic virus, RP1, resulted in improved overall response and duration of response in patients with refractory metastatic melanoma. A few days later, Moderna and Merck announced that intratumoral injections of Moderna's MRNA-4157, an mRNA cancer vaccine, on top of Merck's Keytruda, resulted in superior recurrence-free survival when compared to Keytruda alone.
Enrollment is ongoing in a Phase 1/2 trial evaluating the safety and efficacy of repeat cycles of Gedeptin therapy in patients with recurrent head and neck squamous cell carcinoma (HNSCC). The financing noted above has allowed the company to expand from a single site at Stanford University to additional sites at Emory University and Thomas Jefferson University. The U.S. FDA has granted Gedeptin Orphan Drug designation, and a U.S. FDA Orphan Products Clinical Trials Grants Program funds the initial portion of this clinical program. The initial enrollment population is HNSCC, but it may be expanded in the future to include other oral and pharyngeal cancers.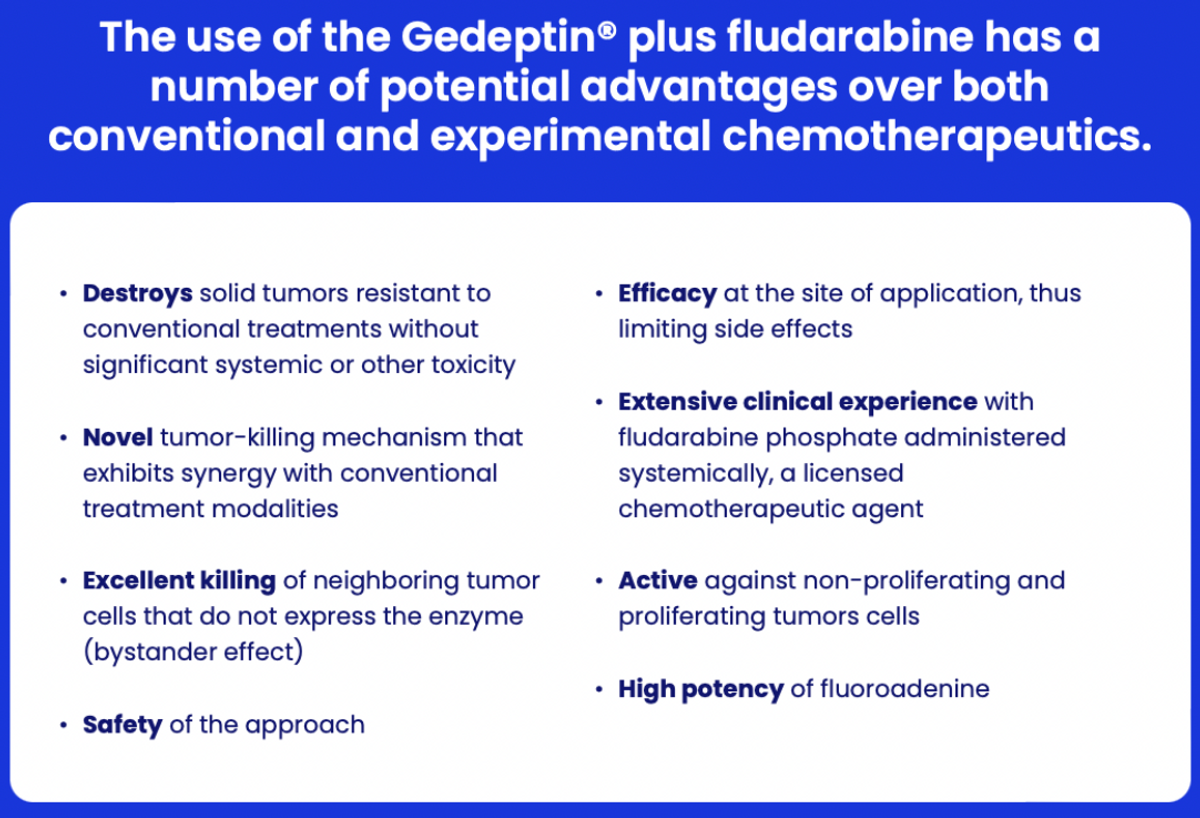 The study's primary objective is to evaluate the safety of repeat administration of a dose level of Gedeptin plus fludarabine phosphate. Secondary efficacy endpoints include overall response rate (ORR), duration of response (DOR), and progression free survival (PFS). As the multi-site Gedeptin program progresses, management intends to engage with the FDA to discuss the potential for expediting the BLA for Gedeptin, should the clinical study above readout with positive data in 2024.

2023 represents a potential breakout year for GeoVax based on important readouts from the coronavirus and immuno-oncology programs. Importantly, the company is funded to achieve these milestones. The shares are currently trading at only $16 million in market value, well below the cash on hand as of September 30, 2022.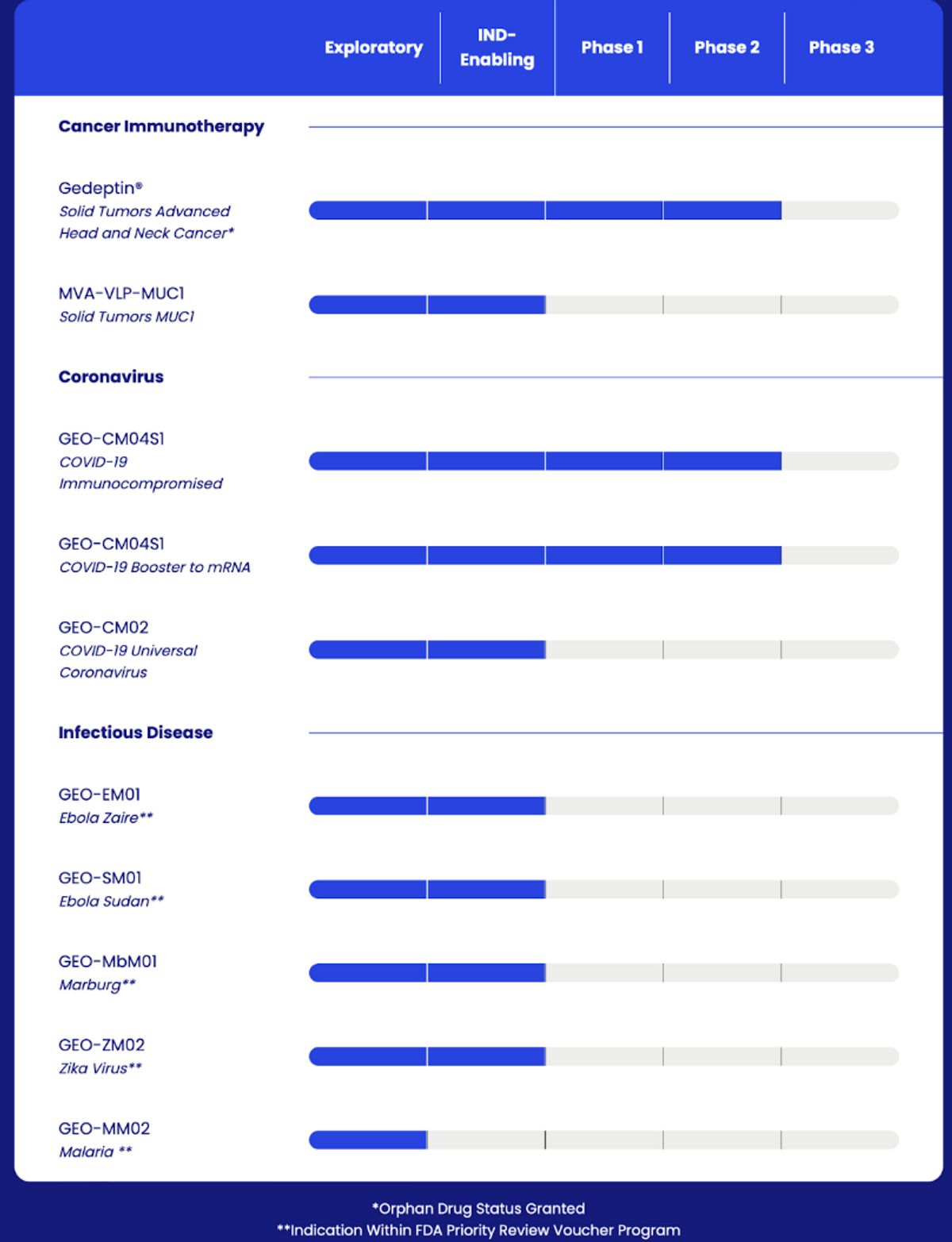 ---
GeoVax Labs, Inc. is a clinical-stage biotechnology company developing novel therapies and vaccines for cancers and many of the world's most threatening infectious diseases. The company's lead program in oncology is a novel oncolytic solid tumor gene-directed therapy,
Gedeptin®
, presently in a multicenter Phase 1/2 clinical trial for advanced head and neck cancers. GeoVax's lead infectious disease candidate is
GEO-CM04S1
, a next-generation COVID-19 vaccine targeting high-risk immunocompromised patient populations. Currently in two Phase 2 clinical trials, GEO-CM04S1 is being evaluated as a single-dose, COVID-19 vaccine for immunocompromised patients such as those suffering from hematologic cancers and other patient populations for whom the current authorized COVID-19 vaccines are insufficient. In addition, GEO-CM04S1 is in a Phase 2 clinical trial evaluating the vaccine as a more robust, durable COVID-19 booster among healthy patients who previously received the mRNA vaccines. GeoVax has a leadership team who have driven significant value creation across multiple life science companies over the past several decades. For more information, visit our website:
www.geovax.com
.
Forward-Looking Statements

This release contains forward-looking statements regarding GeoVax's business plans. The words "believe," "look forward to," "may," "estimate," "continue," "anticipate," "intend," "should," "plan," "could," "target," "potential," "is likely," "will," "expect" and similar expressions, as they relate to us, are intended to identify forward-looking statements. We have based these forward-looking statements largely on our current expectations and projections about future events and financial trends that we believe may affect our financial condition, results of operations, business strategy and financial needs. Actual results may differ materially from those included in these statements due to a variety of factors, including whether: GeoVax is able to obtain acceptable results from ongoing or future clinical trials of its investigational products, GeoVax's immuno-oncology products and preventative vaccines can provoke the desired responses, and those products or vaccines can be used effectively, GeoVax's viral vector technology adequately amplifies immune responses to cancer antigens, GeoVax can develop and manufacture its immuno-oncology products and preventative vaccines with the desired characteristics in a timely manner, GeoVax's immuno-oncology products and preventative vaccines will be safe for human use, GeoVax's vaccines will effectively prevent targeted infections in humans, GeoVax's immuno-oncology products and preventative vaccines will receive regulatory approvals necessary to be licensed and marketed, GeoVax raises required capital to complete development, there is development of competitive products that may be more effective or easier to use than GeoVax's products, GeoVax will be able to enter into favorable manufacturing and distribution agreements, and other factors, over which GeoVax has no control.

Further information on our risk factors is contained in our periodic reports on Form 10-Q and Form 10-K that we have filed and will file with the SEC. Any forward-looking statement made by us herein speaks only as of the date on which it is made. Factors or events that could cause our actual results to differ may emerge from time to time, and it is not possible for us to predict all of them. We undertake no obligation to publicly update any forward-looking statement, whether as a result of new information, future developments or otherwise, except as may be required by law.